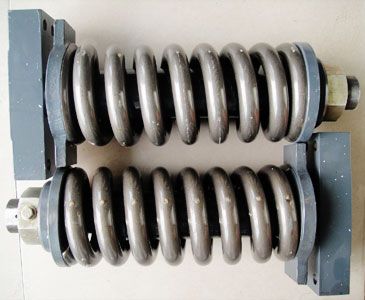 The track adjuSter assembly is one of the most important undercarriage components to provide the excavator or bulldozer track with satisfactory service life.It mainly applies 45# steel as the raw material.The oil seal from KOMATSU OEM is used. This heavy equipment parts is machined with precise size.Due to the perfect quality control system.it surely comes with high quality .Our track adjuster assembly has gone though the heat treatment,which means it perfectly resists abrasion and rust.6 months guarantee time is always available.Till now, we have exported tens of thousands of such products ,and received ZERO complains from our clients.
Maintaining proper track tension is critical to receiving satisfactory track life.Adjuster are designed to absorb shock, provide proper track tension and protect idlers and track systems .weak or broen recoil spring , poorly functioning adjusters may shorten track and idler life
The products can be used to replace the original wear parts for bulldozers , excavator and other heavy equipment of major brand such KOMATSU, CATERPILLAR, HITACHI ,and LISHIDE.
Our range of track adjuster assembly is compatible with the following brand and models:
1) PC56,PC60-6-7,PC70,PC120-6,PC130-7,PC200-6-7-8,PC200-8MO,PC220-6-7-8,PC300-6-7,PC400-6-7
2) EX55,EX60,EX70,EX100,EX120,EX200-1-2,EX200-5,EX200-6,EX300,EX400,
ZAX120,ZAX200,ZAX330
3)CAT306,CAT307,CAT70B,CAT120,CAT312,CAT312D,CAT325,CAT200B,CAT320,CAT320B/C/D,CAT324D,CAT330D,CAT329D,CAT330
4) SC60.8,SC85.8,SC130.8,SC160LC.8,SC130.8,SC210.8,SC200.8,SC220.8,SC300.8,SC330.8,SC400.8,SC450.8
Outer package:pallet

As one of our main products ,the track adjuster is produces based on advanced technology and strict production process. our track adjuter has been exported to worldwide famous factories.In China , our company is the designated undercarriage parts supplier of the domestic well know heavy-duty equipment manufacturers.